Blog
Posted by Filler Neck Supply Co. on
Here are some photos of our fuel filler neck project for the 1967 1968 1969 1970 1971 1972 Chevrolet C/K 10 Pickup with Rear Mount Fuel / Gas Tank Manufactured by Counterpart Automotive PN# 69-9310-bkit.
The Kit Comes with the tank, straps and hardware, along with sending unit and retainer ring.
Our truck happens to be a long bed however the same concept should apply to the short bed also. We needed to make sure to position the tank so everything would line up properly.
The Tank has been installed and The bed is ready to go back on, We have the 1-3/8 main Hose hookup and 1/2 Vent line. I have heard about other kits that have the 1-5/8 main and 3/4 vent, This kit can be done using those measurements also. We manufacturer the 1-3/8" and 1-3/5 inch 45 and 90 degree elbows and hose exclusively.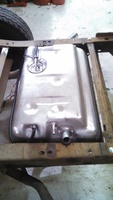 We decided to run the filler neck through the rear side of the inner bed using one of our
We Attached everything to the bed first before mounting it on the pickup. Notice the hoses run inside of the inner and outer panel of the bed.
The filler neck we used is one we will be producing soon with 1-1/2 main hose and 3/4 vent hose. We needed to use a reducer for the vent line shown below.
When its time to replace your fuel filler hose there are several different things you need to know.First; Is the fuel filler hose straight or curved? In order to find out you will most likely need to crawl under the vehicle and see for yourself. Once you get an idea of what it is your [...]
Welcome to your blog! A blog is a great place to share details on your products, business and whatever else you think your shoppers might like to hear from you. You can include photos in your blog posts and even videos. For ideas and inspiration on how to structure your blog, take a look [...]